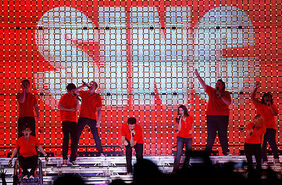 Are you a Gleek? The Glee Wiki is one of the largest entertainment communities on Wikia -- collectively, users have spent nearly 45 years editing and reading the wiki since January 1.
Right now, the Glee Wiki is running a contest where they'll send three winners VIP tickets to see the cast perform live in either L.A., Chicago, or London.
To enter the contest, all you have to do is submit your gleekiest photo. Snap a shot of yourself with your Glee CD collection, posters, fan art, bedspread, costume, or whatever else you can dream up — but hurry, the contest ends in a few days. Check out more contest details to find out when the Glee Wiki will announce winners.
The contest is open to U.S. and U.K. residents only due to international law, but this doesn't mean we don't love gleeks everywhere. You can check out the official rules here.
For card-carrying gleeks, "Glee Live!" is an incredible experience -- but VIP tickets to the show are only part of the prize. The Los Angeles package includes a pre-show party, and the London package includes a photo op with the cast! Check out all the contest details for more prize information.
What are you waiting for? Hurry up and submit a photo!