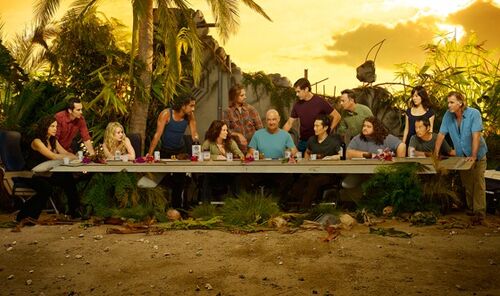 Fruit salad
has appeared on
the Island
several times.
Hurley
is often the one preparing the salad; this might be a result of the choices he made with
Libby
about his eating habits.
Charlie
also courts
Claire
using a surprise bowl of fruit salad. Whip one up for your guests!
Hurley
defeats
Sawyer
in a game of horseshoes at the barracks due to his superior luck. "
The Other Woman
") This game is easy to set up in the back yard, and fun for everyone!
*
How to Play Horseshoes

Lighthouse
is the 5th episode of Lost Season 6 and the 108th produced hour of the series as a whole. It was first broadcast on February 23, 2010. Hurley must convince Jack to accompany him on an unspecified mission, and Jin stumbles across an old friend.
Read More...
Ad blocker interference detected!
Wikia is a free-to-use site that makes money from advertising. We have a modified experience for viewers using ad blockers

Wikia is not accessible if you've made further modifications. Remove the custom ad blocker rule(s) and the page will load as expected.